To those readers who have enjoyed reading my memoir

SIPPING FROM THE NILE,

please try my new novel,         

FOOTPRINTS ON THE HEART.

Read these first reviews for FOOTPRINTS ON THE HEART
on Amazon. All 5-Stars.
Please take a moment.
Post your own reader review.
September 22, 2019
An absolutely mesmerizing novel.
This story is so beautifully written and the story is totally gripping. The characters are intriguing and the history of the times it depicts is totally absorbing. I haven't read such an exceptional novel in a long time. Elaine
September 5, 2019
A relevant book for our times and a must read for men & women alike.
THis is an extraordinary book written by an extraordinary writer who knows how to reach the reader within the very first page. "Footprints" is delightful, educational, compelling and totally captivating. And after reading the author's biography it is clear to me how this novel connects us to her life in all the most significant ways.
I am expecting to see "Footprints" climbing the best seller list very soon. In the meantime, I am recommending it to all my reader friends. Madeleine Swain
September 2, 2019
What a surprise!
I had no idea of the depth of this story! The writing is beautiful and the story is unique. It has so many components and each one is worth pursuing. I am definitely going to follow this author. elaine l
September 6, 2019
A fascinating story
This is a touching and interesting look at characters and life stories affected by big events in Egypt and New York. Thoroughly enjoyable! N.
August 31, 2019
The human nature is so well analyzed.
Outstanding. Outstanding, outstanding I was riveted to this novel by Jean Naggar. The author writes superbly the story of two families, one is Moslem, the other one is Jewish. It is a fascinating well crafted novel entwining two biographies for an unusual approach to the history of Egypt in 1956, and in America. Nelly Rosenberg
September 19, 2019
Egypt and America, Uniquely Interwoven
In Jean Naggar's first novel, narrative threads that at first seem like separate stories are inexorably woven into a single fabric. One magnetic personality stands at the center. An Egyptian girl, born with the name Jamila in a poor village on the bank of the Nile, is taken from her family at the age of eleven by an American businesswoman, who renames her Jasmine and helps her to become a celebrity model. As a result of the Suez Crisis of 1956, the well-off Misrahi family from Cairo, stripped of their wealth and possessions because they are Jews, also ultimately land in New York
Naggar's first book, Sipping from the Nile, was a memoir of real events and the family histories that led to them. Also beautifully written, it sticks to the facts while evoking a past forever lost. Fiction allows the author a different kind of truth, freeing her to delve more deeply into the inner thoughts and ambitions, the tragic fears and weaknesses of her characters. Her empathy for all her characters, Jews and Muslims, Americans and Egyptians, speaks not only to Naggar's wisdom but makes Footprints on the Heart a sharp counterpoint to the clichéd intolerance often taken for granted in stories with Middle Eastern settings. In concluding, Naggar pulls off a rare literary feat. Many novels withhold crucial plot points even though the reader is likely to guess them. Yet here the final reveal arrives in a way that's as surprising as it is moving.
Every page of Footprints on the Heart is filled with riches. Read it soon. Paul Preuss

September 5, 2019
An absorbing, sweeping historical saga of love, loss, and redemption.
Naggar's vividly-drawn characters begin their difficult but ultimately deeply rewarding journeys in Nasser's Egypt in 1956, finding their way to personal and professional success in fashion and finance in post-9/11 New York......in Naggar's skillful hands, we watch in wonder as fate leads them to fulfillment and self-awareness. A deeply moving, satisfying read that along the way teaches us a great deal about Jews, Muslims, Egypt, and the U.S. in the 20th and 21st centuries. Joyce Zonana
September 11, 2019
Worth reading
This book is beautifully written.
The background is correctly depicted, I know as I lived in Egypt and in New York during that period.
In addition the story is gripping and the conclusion unexpected.
I thoroughly enjoyed it. Marilyn Baer

The story is beautiful and beautifully told and keeps the reader on tenterhooks.

Jean`s latest book and first novel is a fiction about 2 countries and 2 families. She has a way with words and uses them to a wonderful effect. The novel illustrates deep knowledge of her subject ----- that is the 20th century social history of two countries with very different ways of life. More importantly the book reveals political and economic pictures of the period and the different levels of comfort and suffering of her subjects
More than any book on 20th century Egypt that I have read she produces a deep and broad vision of the period
In addition to the skilled and exciting storytelling the book has a serious and important place on any bookshelf of the Middle East and the problems of a country of 30 million people living off one river and growing to 100 million in less than a century.
And she ends her story with the twist of a true professional. DO NOT LOOK.
Richard Smouha
---
Stanford Lecture
U-Tube of lecture at Stanford University, Taub Center for Jewish Studies, Introduction by Marie-Pierre Ulloa


---
---
---
Excerpt from March 5, 2014
five star Amazon review:
"This book is extremely well written, poignant, historical, and filled with people from her aristocratic Cairo family who come across as real and fascinating as characters you'd meet in the best fiction..."
---
Viviane Kirsch awards Sipping from the Nile five stars. in her October 2013 review : "Once you start reading it, you will not be able to put that book down!"
She also writes "A very well written account about the golden life of an Egyptian Jewish family before their forced exodus in 1957 due to political reasons ... The narrative, full of emotion and rich in descriptions, is accompanied by authentic photographs."
---
Amazon review #100, awarded five stars to Sipping from the Nile
"Marvelous book" says reviewer AnnaMayfair
"I so enjoyed reading the journey of Ms Naggar's life. It is a wonderfully written book that I would so love to see as a film or PBS series. I could taste the food. I could feel the joy. I could feel the tension.
Marvelous, absolutely marvelous book.
I am so grateful to Ms Naggar for sharing her story...
I highly recommend this lovely book
"
---
EMILY RUBIN, author of STALINA
"Jean Naggar's memoir Sipping from the Nile brings the world of Egypt's privileged class to us like a Downton Abbey set in Cairo. This is history told with the fluidity of poetry, the sensuality of life, and with empathy that resonates from an extended family determined to survive upheaval."


---
RITA CHARON, COLUMBIA UNIVERSITY
"One life in Cairo exposes the meaning of today's Arab revolution. Jean Naggar's Sipping from the Nile: My Exodus from Egypt achieves the goal of memoir--to illuminate the full context of life by examining one life within that context. The writing is transparent, evocative, and muscular while the events brought to life are consequential for us all. Read this book if you want to understand our world! Naggar's intense focus on the individual life explains what is at stake in the revolution now taking place in the Arab world.


---
SIPPING FROM THE NILE REVIEW from BOOK CLUB CLASSICS.com :
"My favorite way to learn history is through the eyes and lives of those generous enough to share their stories. Jean Naggar's memoir — subtitled "My Exodus from Egypt" — is the best kind of memoir.... each story comes to life in a tapestry of privilege and responsibility. The pages fly by and the reader is able to get a rich sense of Egypt's history through the fascinating lives of her family. I am so grateful that Naggar shared her story. I had the privilege of visiting Egypt years ago and now feel much closer to this country after experiencing Naggar's story. I RECOMMEND IT!"


---
Thank you for your visit
Take a moment:

READ THE GUEST BLOGS

on the My Works page

.

Check out my Blog. Please take a moment to add to the Comments!


Please communicate with me through my Contact page before you leave the site. I would so much appreciate hearing from you. I always respond!


_________________________________________________________________________________________
Jean Naggar was born Jean Mosseri in Alexandria, Egypt on December 5th, 1937. She grew up in Cairo and attended the Gezira Preparatory School and the English School in Heliopolis before going to boarding school at Roedean School, Brighton, England. She and her family left Egypt in 1957 following the international Suez crisis. She attended Westfield College at London University and was awarded a BA Hons. degree from London University in 1960.

In 1962 she married Serge Naggar and moved to New York City where she has lived ever since. She lives in Manhattan with her husband, Serge, and is the mother of three and grandmother of seven.

Her son, Alan Naggar, lived in California. He was an actor, director and theatrical producer.
Her son, David Naggar, works at Amazon.com in charge of self-publishing and Kindle content worldwide. He moved to Amazon and Seattle after 16 years in various executive positions at Random House, followed by a year as President of iAmplify, an internet start-up focused on digital content and distribution.
Her daughter, Jennifer Naggar Weltz, partner in the literary agency Jean founded in 1978, the Jean V. Naggar Literary Agency Inc.(JVNLA), is now President of JVNLA (see link on right). She runs the business, while also operating as agent of her own list and rights director for the agency. She is the current president of the Association of Literary Agents, 400 Literary Agencies spread across the USA.


---
I hope to include some links that will give a larger portrait of ancestors and the way the lives of this significant community of Sephardic Jews were tightly interwoven with the Egyptian socioeconomic landscape from 1800 on.

Legendary Nebi Daniel Synagogue in Alexandria taken over by Muslim caretaker
Nebi Daniel Synagogue in Alexandria, where my parents were married
Disturbing information about events taking place in Alexandria, Egypt. Read the blog by Lyn Julius and join the international outcry. The last Jews in Egypt are under siege today. The situation of the dispossessed Jews of Egypt needs everyone's help. A last bastion has fallen.

Lyn Julius writes: The Jewish community in Alexandria no longer runs its own affairs, a Jewish visitor discovered on a visit to Egypt in March.


---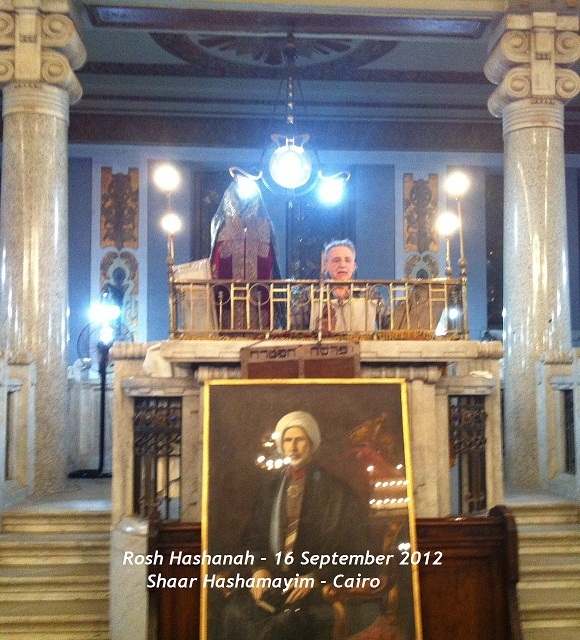 I remember walking carefully holding a white wax taper taller than I, into the vastness of this beautiful sanctuary ahead of a bride following her small attendants in clouds of white tulle. We advanced amid gasps of admiration from the packed guests. The flame on the taper trembled in my hands and drops of wax slid down, as the synagogue organizer hovered over us, anxious that the flaming tapers should not slip from small hands and cause a fire. I am not sure whose wedding it was, but I think it was one of the daughters of my father's Uncle Maurice Mosseri.

The portrait seems to be of Yacoub Cattaoui Bey (see link above), a bow to the temple's illustrious past?

It seems from this recent link that services took place in the Cairo synagogue, complete with minyan and rabbi. The series of photos included in the link is comprehensive and lovely, and seems to indicate a fairly numerous community with some younger participants, possibly supportive visitors from other countries.

I was amused and interested to observe that the vast space of my childhood memory seems not vast at all.
---